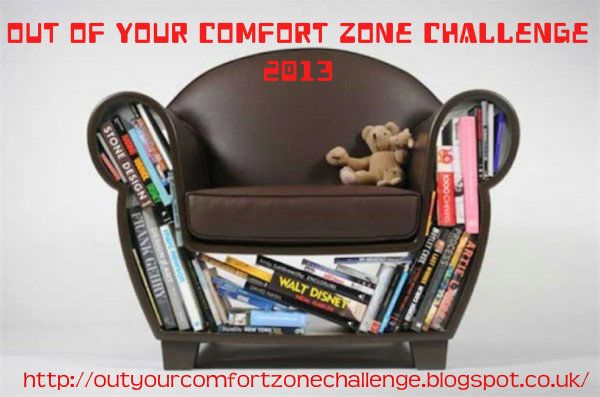 Hi you guys. Welcome to the Out Your Comfort Zone Reading Challenge.
My name is Lucy and I blog at
Lucybird's Book Blog.
I wanted to start a new blog just for this challenge to make it easy for everyone to follow.
The idea behind this challenge is that you read books you wouldn't normally have read.
I'm posting 12 ways that you might like to use to find a new book, the idea being that you can use one idea each month, however it's a bit of a free for all. You can use different methods if you want to, and you can use as many or as little of the methods posted.
However if you post at least one book for this challenge each month you will have the chance to enter a giveaway at the end of 2013.
To join in just add yourself to the Mr. Linky at the bottom of this page. Please tell your readers that you are participating in this challenge, feel free to use the above image in your posts.
Ways to get out of your comfort zone:
1) Go to your favourite bookshop/library and go to a section you don't normally visit (e.g. always read historical fiction? Try the fantasy section) count how many bookcases there are then add this as your top number at
random.org
whatever number comes out count the bookcases and go to that number case. Count how many shelves there are and get another random number, count that many shelves down and books across, read the book you land on.
2) Go to
amazon's book page
and pick a section your don't usually read from, try to make it a different section to option 1. Look at the bestsellers list and read the number 1 spot, if it's part of a series read the first in a series.
3) Visit a blog which reviews a genre you don't normally read. Read the first book they review (as with 2 if it's part of a series read the first in the series).
4) Visit a blog which reviews a genre you don't normally read. Ask the blogger for a recommendation for someone who wants to start reading their favourite genre.
5) Type book into an image search. Read the first book which pops up.
6) Find an article/list of the best books of 2012. Read a book from the list.
7) Visit a blog which reviews a different genre. Read their best book of 2012.
8) When out and about look to see what people are reading. Read one of the books you see.
9) Look at the daily/weekly/monthly offers at your favourite bookseller. Read one of the books on offer.
10) Go to
Whichbook?
choose characteristics which your wouldn't normally go for in books e.g. if you usually read funny books slide the bar towards serious.
11) Read a book by an author who has friended you on goodreads, followed you on twitter, liked you on facebook, followed your blog or sent you an e-mail, providing you wouldn't normally say yes to their request.
12) Ask a favourite blogger which book surprised them last year because they liked it. e.g. The Hunger Games is not my usual genre but I really liked it.
WILD CARD: I'm hoping to compile a list of our recommendations for each other. The post about this will be up shortly.